What a lovely surprise from Tracey at
:) T calamity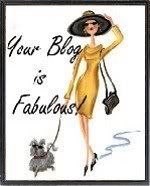 A Fabulous blog Award! Thank you Tracey x x
I am going to pass on this award to the following blogs;
T Calamity
Traceys blog is always a great down to earth read. Never a read without a smile.
Pink Feather Paradise
Alexs' Blog is always a great read and her work is so nice to see. Never fail a smile over on her blog.
Jellybelly Jellybrain
Emmas blog is always so very entertaining and informative. (I nearly Died Laughing yesterday!)
If Mamma ain't Happy
For her to die for recipes!
The Vintage Kitten
For being a lush and always making me smile and Laugh.
Swirley Arts
Lynseys amazing Craft room transformation! always a pleasure to read and follow your blog.
Kitschen Pink
A new found blog that I lost hours to!
Pearls and Whirls
Cazs' Blog is always promising beautiful unique Jewellery Pieces.
Ooak Fairy Fae
Ritas pieces are amazing and a pleasure to view and lose yourself in a fantasy.
Cinnamon Cottage
Jans blog is always a pleasure to read and a wonderful Journey to follow.
Kellys Kitchen
Kellys blog is adorned with great recipes and photographs, Her marshmallow story is so worth going to read, I was howling with laughter!